We want to give it to you straight. THE NEED IS GREAT! For most of us it's difficult to acknowledge, but we know it's there; One of the largest homeless populations in the country and working poor who struggle daily to have enough to eat. Spousal and child abuse. Alcohol and other drugs being abused at alarming rates. We could go on and on, but it's enough to simply say, a lot of people are hopeless and in need of hope.
HELP US HELP THEM!
---
Helping People Find Hope!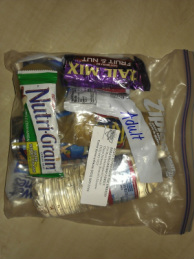 One of many - A Testimony letter that's worth the read.
"Cheryl and I met about 4 years ago at Crossroads Mall (Bellevue, WA) when she came to the Mini City Hall to talk about a program your "small but mighty :)" congregation was starting. With donations from grocery stores and sporadic cash donations, a group had started to create food bags in Ziploc bags stocked with healthy snacks and bottles of water that would be easily accessible to homeless people or those who did not have access regularly to a kitchen. The bags were not just for the homeless; Cheryl also thought it would help people's dignities who were struggling, to be able to have these snack bags to take to school or work, similar to what others bring when they are on the go.
We loved the idea immediately and we decided to have some snack bags at MCH (Mini City Hall) and both of us would see if people were open to receiving the bags. We would offer them to people who came in for Human Service help and we knew that having enough to eat was a struggle.
The first day we had the bags available at Mini City Hall we knew this was very special and unique. We LOVE this program!
more...
---
---
R.E.A.L. TRANSFORMATION
"Do not be conformed to this world, but be transformed by the renewing of your mind, that you may prove what the will of God is, that which is good and acceptable and perfect."
(Romans 12:2)
---
everyday people...

We are everyday people, working together to do extraordinary things!
----------
"For the Lord will be your confidence, and will keep your foot from being caught."

---

R.E.A.L. CHURCH
(Righteous-Encouraging-Accountable-Loving)
"People are Spiritually Righteous when they trust in Jesus Christ as their Savior. They're called to Encourage each other to grow in Christ, be Accountable to the expression of Christ in and through them, and exhibit the Love of Christ by the power of the Holy Spirit."
---
Represent Jesus Christ well, all the time, everywhere!